Want to download some movies or videos but wondering about the free space on your Mac's hard drive? Try these to know your free space
1: From the About box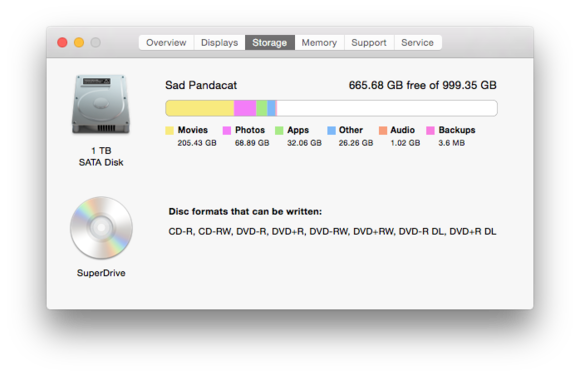 In latest versions of OS X, you can check your disk usage from the About box. Open the Apple menu, select About This Mac. On OS X Yosemite or newer, you can click the Storage tab in the toolbar to see how much your disk space. (On OS X Mountain Lion or Mavericks, click the More info… button, then click Storage.) You'll also get informations about what sort of files are eating up your storage space.
2: From Disk Utility
Check your disk space from Mac's Disk Utility app. Open Spotlight, magnifying glass symbol, (you can know about spotlight in another articles in this web),  type Disk Utility in the search box. Once Disk Utility comes up in the list and is highlighted, press the Enter key.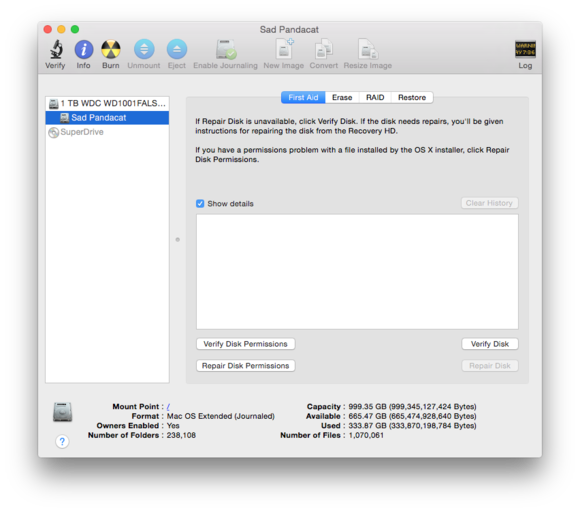 After the Disk Utility opens, select your hard drive's name from the list,mine is "Sad Pandacat," but if you didn't change its name, it'll be named "Macintosh HD." Look the lower-right corner, there you can find your drive's capacity, its available space, its used space, and the number of files on the drive. You can also check the free space for any drive you have connected to your Mac from this window,such as USB or another external hard drive.
3 and 4: From the Finder
The Finder offers you some ways to see how much free disk space you have. The first is check the Get Info window for your hard drive.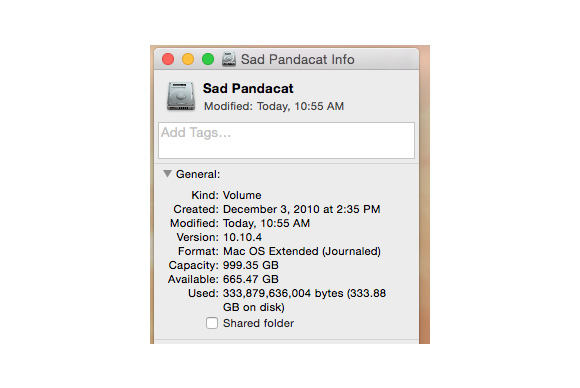 You need to find your hard drive for the first step in the Finder and select it. If it appears in the Finder window sidebar  or on the Desktop (it doesn't by default—go to Finder > Preferences… to change that), click your hard drive's icon in either of those spots. If your hard drive icon doesn't appear there, go to Go > Computer, then click the hard drive icon. Open the File menu, and select Get Info, now you can see the drive's capacity, available space, and used space.
You can overview your free disk space at all times from the Finder, you can turn on the Finder's status bar. Open a Finder window if you don't have one open already (click the Finder's Dock icon or go to File > New Finder Window).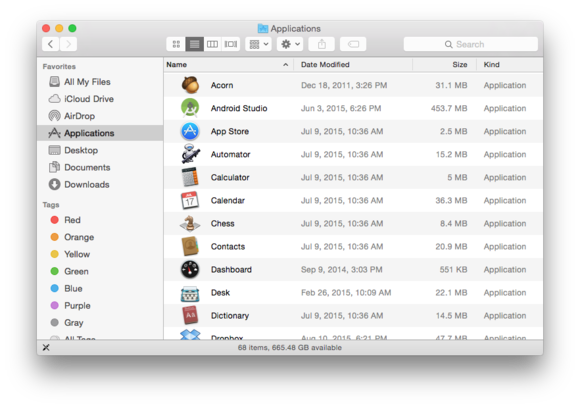 Open the View menu and select Show status bar: It will show you how many items are in the current folder, and if you're viewing a folder on your hard drive you get a readout of your hard drive's free space.
This two finder methods are fine to do if your Mac's file are all well organized, but apple usually love to hide a lot of file system, so it is better for you to do the 1 and 2 method if you don't really understand about the file's places on your Mac.